Ref:
Date:
Location:
Photographer:
[clikcontent type=paymentBuyLink replaceable=true]
Ref:
Date:
Location:
Photographer:
[clikcontent type=paymentBuyLink replaceable=true]
Iceland Adventure - Part 1 introduction
17/06/14
As you may have noticed from the influx of Iceland shots in the recent images gallery, I recently spent a couple of weeks travelling around this amazing country. I'll be adding some locations, videos and more information about where and when I went when I get a chance, but I just wanted to share some of my experience for those thinking about going there.
It's been on my list of places to visit for several years, but I've always found a reason to put it off - cost, time, other places to visit... (did I mention the cost????) But with hindsight I should have gone years ago.
Even though I've seen many images and videos of Iceland, nothing quite prepares you for the real thing. The scenery is epic, other worldly and awe-inspiring, even flying into Keflavik is an experience (if the weather allows you to see the scenery!). We were lucky, and the flight along the south coast gave us some amazing views of what awaited us. Okay, the drive from the airport to get to route 1 near Reykjavik is a bit of a drag, but once you get past Reykjavik the landscape simply unfolds before you.
So, my first bit of advice is if you're into landscape photography, and you ever get the chance, just go….
I have been privileged to have seen and photographed several stunning countries the world, both for business and pleasure, but very few places can match Iceland for the sheer drama of the scenery - and you need to see it for yourself to really appreciate how special it is.
For now I'll leave you with a few of my favourite images of the spectacular scenery. But I'll be adding some more information about what time of year we went (and why), where we went, what kit I took and some information about what it costs in upcoming entries…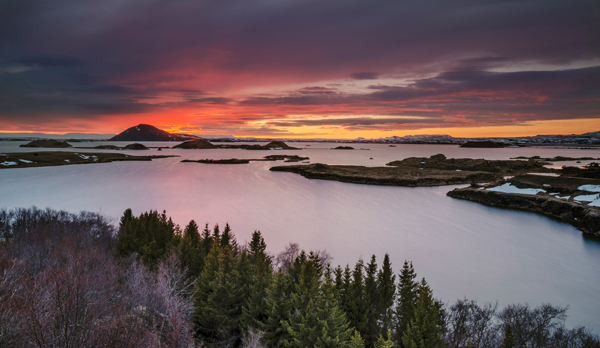 I'm now living on the Isle of Skye, and can provide you with holiday accommodation along with photographic, time-lapse and video tuition. For more information about what I can offer, take a look at the Photo Holiday section
here...
If you've visited the site before you'll notice that it's had a bit of a redesign. All of the content is still here, but I've updated the galleries, and also increased the image size of the galleries to make the most of the images. Take a look at the new galleries
here...